Projects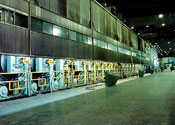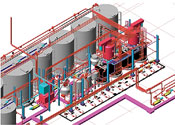 Since 1996, Harris Group International has completed more than 500 consulting and engineering projects for its Russian and foreign customers.
HGI performed in large projects as a General designer.  General designer services give the advantages not to miss any of objectives, activities, approvals or disciplines.
The company's clients come from a wide range of industries, primarily from the pulp and paper and forestry industries. The company also provides services in the food, tobacco, paint and varnish, textile, and other sectors. АО HGI is committed to developing long-term mutually beneficial relationships with its clients and to becoming a supplier of choice for many of its clients.
Most of all the biggest P&P projects of recent years in Russia were implemented with participation of HGI PCS
Our customers in Pulp and Paper Industry
• ILIM Group (mills in Bratsk, Ust-Ilimsk and Koryazhma)
• International Paper, Svetogorsk
• Segezha Pulp and Paper Mill
• Archangelsk Pulp and Paper Mill
• Mondi, Syktyvkar Pulp and Paper Mill
• SCA Hygiene Products Russia
• Vyborg Pulp and Paper Mill
• Andritz
• Metso
• GL&V
• Omya
Our customers outside Pulp and Paper Industry
• Gasprom
• Roca Sanitary Ware
• Wrigley
• Rockwool
• JTI (Japan Tobacco Industry)
• VEDA Glass packaging
• Atria Russia
• Nokian Tyres
• Sweco
• YIT
• Lemminkäinen

Our selected projects:
| | | |
| --- | --- | --- |
| OAO "Svetlogorsk PPM" (Republic of Belarus) | | Marketing overview of the paper market |
| OOO "UK Segezha Group" | | Expert assessment of the technical condition of the main equipment and technological processes at OAO "Selenga Pulp and Cardboard Mill" |
| AO "Volga" | | Technical and environmental audit of the existing production site, sources of air emissions and wastewater generation, treatment plants, facilities for placement and disposal of wastes of production facilities for compliance with the best available technologies (BAT) with due regard to the planned technical upgrade of the mill. Development of recommendations for achieving BAT |
| AO "Volga" | | Project and detailed engineering documentation for construction of a new thermo-mechanical pulp production line |
| OOO "New Russian Pulp" | | Front-end engineering design of a double-flow mill construction on production site in Amursk district of Khabarovsk Krai to manufacture sulfate viscose pulp from spruce and larch wood and to manufacture sulfite dissolving pulp from spruce wood for chemical processing |
| OAO "Ilim Group" Branch in Bratsk | | Project documentation to construct the new tall oil rectification department |
| Vision Hunters Ltd.Oy (Finland) | | Technical and environmental audit of OAO "Kondopoga" in order to develop recommendations for improving the economic efficiency of the mill |
| OAO "Ilim Group" Branch in Bratsk | | Material flows balance diagrams to verify and confirm the feasibility of the planned results when implementing the "Siberian Express". Recommendations to optimize material balance interconnections |
| OAO "Ilim Group" Branch in Bratsk | | Project and detailed engineering documentation of the new lime recaustization and recovery line |
| OAO "Ilim Group" Branch in Bratsk | | Detailed engineering documentation for retrofit of the Vacuum Evaporator Plants No.6 and No.7 |
| OAO "Ilim Group" Branch in Koryazhma | | Project and detailed engineering documentation for retrofit of RB No.1 |
| OAO "Ilim Group" Branch in Bratsk | | Front-end engineering design for construction of the hardwood, softwood and mixed crude tall oil rectification plant |
| OAO "Ilim Group" Branch in Bratsk | | Detailed documentation for the system of collection combustion of non-condensable gases in LK and for the system of turpentine condensate collection in high-yield pulp production with crude turpentine processing in producing wood chemicals |
| Branch of OAO "Ilim Group" in Bratsk District, Irkutsk Region | | Feasibility justification for the installation of equipment for the collection of highly concentrated and weak odorous gases and their incineration in the Lime Kilns |
| OOO "Industrial Pulp" | | Feasibility Study (FS) for the Sulfite Pulp Mill construction in the city of Chusovaya, Perm region |
| OOO "Siberwood" | | Expert report on the materials of predesign stage of selection and assessment of alternative sites in Irkutsk region for allocation of wood chemical processing enterprise |
| OOO "Industrial Pulp" | | Feasibility study for construction of sulphite pulp mill in Tchaikovsky district of Perm Territory |
| ZAO "International Paper" | | Detailed documentation and installation of the air conditioning and ventilation system within the framework of modernization project for rewinder electric drives at Paper Machine No.1 |
| ОАО "Archangel P&PM" | | Project documentation for construction of a boiler for burning of bark wastes and effluent sludge at OAO "Arkhangelsk PPM" |
| ZAO "International Paper" | | Detailed documentation for replacement of headboxes No. 1 and No. 4 on paper machine No. 1 |
| OAO "Ilim Group" | | Project and detailed documentation on pulp production facilities for Bratsk branch of OAO "Ilim Group". Construction stage 1 |
| ОАО "Segezha P&PM" | | Design and detailed documentation for a fuel oil storage arrangement |
| ZAO "International Paper" | | Detailed documentation for modernization of headboxes No. 2 and No. 3 on paper machine No. 1 |
| Pskov Region Administration | | Pre-project documentation on the concept of production facilities establishment designed for deep processing of timber in Dedovichi district of Pskov region |
| ООО "AF-Enprima" | | Materials for justification of investments for rebuild of OAO "Segezha PPM" |
| ОАО "Segezhski P&PM" | | The detailed documentation for the PM #9 upgrading |
| ОАО "Selenga P&BM" | | Declaration of intents and justification of investments of the BMM construction |
| ООО "SCA HYGIENE PRODUCTS RUSSIA" | | TEO for the Tissue Paper Mill for production of hygiene paper and relevant hygiene products in Sovetsk, Shchekino District, Tula Region |
| OAO "Svetogorsk" | | Design documentation for Bleached Chemical Thermo Mechanical Pulp Plant construction |
| ОАО "Svetogorsk" | | Environment Impact Assessment and Justification of Investments to construction of Bleached Chemical ThermoMechanical Pulp production |
| ОАО "Svetogorsk" | | Detailed design of Landfill for industrial wastes |
| ООО "SCA HYGIENE PRODUCTS RUSSIA" | | Justification of Investments on construction of Tissue Paper factory in Tula Region ("Tolstoy Project") |
| ОАО "Svetogorsk" | | Detailed documentation for PM1 rebuild with coater installation |
| ООО "Roca Sanitaryware" | | Detailed design for china sanitaryware factory construction in Tosno, Leningrad Region |
| АО Metso Automation, Finland | | Detailed documentation of Automatic Process Control System as applied to the flow of Paper Machine No.10 at ОАО "Segezhsky P&PM" |
| ООО "Artiwood" | | Basic and detailed design for structural saw timber production factory in Sosnovy Bor, Leningrad Region |
| ZAO "ROSIN" | | Justification of investments of construction of timber industry complex "SETNORD" in Lodeynoie Pole, Leningrad Region |
| ОАО "Archangel P&PM" | | Elaboration and receipt of approval of supervising authorities of the Declaration of intent to construct new wood preparation department (woodyard #4). Preparation of materials for financial company "Finnvera" for receipt of bank credit. |
| OAO "Sovetski DOK" | | Detailed design of the oriented strand boards in Sovetskiy, Khanty-Mansi Autonomous Region |
| "Yampolski Associates" ltd. | | Technical audit of OAO "Ust-Ilimski" with the purpose of working out strategic development plan for the enterprise |
| ZAO "Philip Morris-Izhora" | | General design of tobacco factory of ZAO "Philip Morris-Izhora in Gorelovo, Leningrad Region |
| Harris Group International Inc., USA | | Sections of strategic development plan for enterprises of Ilim Pulp Enterprise |
| OAO "LVL-Yugra" | | Justification of investments for construction of the plant producing middle density fiberboard |
| ОАО "Svetogorsk" | | Detailed design of the rebuild of the A3 paper line in sheeting paper department |
| ОАО "LVL-Ugra" | | Detailed design of laminated veneer lumber plant in Niagan, Hanty-Mansi Autonomous Region |
| ООО "StroyProfComplex" | | Detailed documentation for DCS at Northern aeration station in Saint Petersburg |
| ОАО "Svetogorsk" | | Detailed documentation for industrial waste landfill |
| АО "Neles Automation", Finland | | Detailed documentation of DCS for chlorine dioxide department at ОАО "Archangel P&PM" |
| ОАО "LVL-Ugra" | | Substantiation of investments into construction of the laminated veneer lumber factory, Niagan, Hanty-Mansi Autonomous Region |
| Harris Group International Inc., USA | | Design documentation for the process installation of ОАО "Syktyvkar LPK" effluent precipitates dewatering department |
| OAO "Svetogorsk" | | Detailed documentation for installation of A3 sheeting line in the sheet paper plant |
| OAO "Kotlas P&PM" | | Detailed documentation of the chlorine dioxide production |
| OAO "Svetogorsk" | | Basic design of the industrial wastes burial range |
| OAO "Archangel P&PM" | | Detailed documentation of the 1-st phase of the woodyard reconstruction |
| OAO "Svetogorsk" | | Pollutant discharge standards effluents |
| OAO "Svetogorsk" | | Design documentation for formation of digital distributed process control system (DCS) for kraft pulp plant #2" |
| Celleco, Sweden | | Design documentation for modernization of the stock preparation process at OAO "Solikamsk P&PM" |
| Valmet corporation, paper machines, Finland | | Preparation of documents for the receipt of the Gosgortechnadzor certificate of the Russian Federation for steam dryers delivered by Valmet for reconstruction of the paper machine #4 of the Syktyvkar LPK |
| OAO "Archangel Mill" | | Detailed design of construction of corrugated board production and fabrication of boxes from it for packing of foodstuffs and consumer goods |
| ZAO Ilim Pulp Enterprise | | Feasibility Study of modernization of washing and bleaching installations in the production of unbleached sulfate hardwood pulp at the Kotlas Pulp&Paper Mill as the result of conversion to the ECF bleaching technology |
| Ilim Pulp Enterprise | | Materials for assessment of environmental safety of the processes to be implemented in several modernization projects in P&P industry planned to be financed |
| Harris Group International Inc., USA | | Basic design of modernization of caustisizing department at the pulp mill of the Syktyvkar LPK. Comprehensive design |
| OAO "Svetogorsk" | | Preparation of Justifying materials to prove the y in principle of building the polygon for disposal of wastes and receipt of the Conclusion of Environmental Committee for Leningrad Region |
| Harris Group International Inc., USA | | Detailed drawings of new unbleached hardwood pulp washing line and bleaching line for this pulp using TCF bleaching process for the Syktyvkar LPK. Comprehensive design |
| AOOT "Syktyvkar LPK" | | Basic design and detailed drawings for construction of 60,000 tpy sheeting plant. Comprehensive engineering |
| OAO "Svetogorsk" | | Preparation of materials of the license case to receive the license for water usage and water disposal license and for the insurance of civil responsibility risk for causing harm to the water body by the water user. The licenses stipulate the conditions of concession of the water body being state property as well as establish the rate of payment for the use of the water body |